Learn how to increase new patient referrals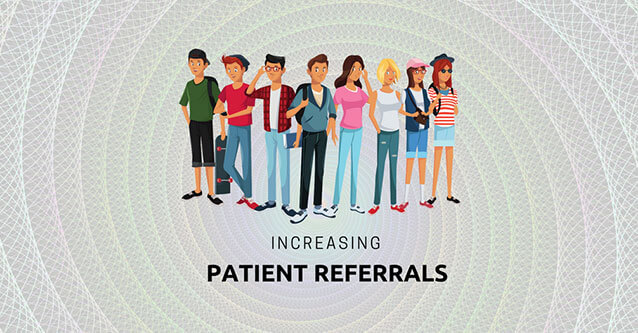 In our roles as allied health, fitness and wellness professionals we are engaged by our clients to help them. The ways in which we help them differ; it may be that we assist them in recovering from injury; improve their health and fitness through weight loss and exercise or teach them techniques to help them manage stress and enhance wellbeing. Whatever methods we use, we implement a plan and execute accordingly.
When it comes to marketing our practice or selling our services, the majority of us shy away from the challenge. Promoting ourselves is not everybody's strong point and many health, fitness and wellness experts will actually choose to run in the other direction and just hope for the best!
So what can we do to grow our client referrals and expand our businesses?
As is the case with most things in this day and age, getting yourself heard or seen is a challenge! You need to be able to cut through the noise and stand out from the crowd. Here are a few ways in which we can get ourselves out there without pushing the hard sell.
Know Your Market
'Knowing your market' denotes understanding what drives your clients/patients so you can better satisfy their needs. It involves creating a patient profile of who you are already appealing to, who is using your clinical services and defining the ideal type of client you would like to attract as well.
You need to know:
the demographics of your ideal patient, such as age, gender, location, education and social status
their lifestyles, values and service needs
their views on healthcare and how they prioritise spending on such services.
Once you have a clearer understanding of whom your practice is targeting, you can further refine your marketing efforts. You will then be able to confidently market your service in a way that is appropriate and appealing to your target population/s via channels you know your prospective patients utilise whilst using language that is appropriate for their demographic.
Educate and Engage with G.P's
The vast majority of our patients will first see their G.P with any health concerns. In many cases this includes musculoskeletal injuries. Although a G.P referral is not needed for patients to access most allied health services, many patients continue to initially consult their doctor. G.P's see a lot of patients – everyday, week in and week out. In fact in 2013-14 musculoskeletal complaints accounted for a little over 10% of all patient consultations with back complaints being the most common concern totalling 2.1%.[1] Considering how many consultations are conducted everyday in clinics all over Australia there is enormous capacity for patient referrals from this population, but generally this potential is not leveraged by the allied healthcare professional.
I see the problem here as two fold:
G.P's have to know a lot of information about an extensive list of health conditions. For the most part, they are not fully aware of what allied healthcare such as physiotherapy; osteopathy or exercise physiology can offer their patients.
They tend to believe their current management protocol is good enough and don't have the time to explore other treatment options.
So take action people! Speak to the practice manager and schedule in a brief information session providing information about your business and what you can offer. Remember, you need to be part of the solution – G.P's will be encouraged to refer to you if you establish a trust relationship with them and demonstrate great patient care resulting in positive outcomes. It's a win-win situation! I can't stress strongly enough how important this relationship is to the continued growth of your practice. Even if promoting yourself to a room full of doctors seems daunting and makes you weak at the knees – do it -trust me – you won't look back.
Utilise Word of Mouth Referrals
Word of mouth is one of the oldest, yet most effective ways of marketing your business. It generally doesn't cost anything as you are simply relying on patients passing on their opinion of your service or product. It goes without saying that the services you provide need to be top notch so that your patients start talking about you to their networks and inadvertently market your business for you.
Promote Your Brand
Your brand reflects who you are, what your business stands for and whom you would like to appeal to.
"Your brand is your promise to your customer. It tells them what they can expect from your products and services, and it differentiates your offering from your competitors".[2]
Spend the time and effort to create a great logo – one that is memorable and communicates what your business stands for. Make sure you place your logo on all your marketing collateral and materials handed out to patients. Be consistent using the same colour schemes, look and feel throughout all your marketing efforts. A strong and consistent brand instils trust and confidence.
Online and Offline Tools
After analysing your target market you will probably discover that your patient demographic spans several generations. Each generation – whether they are Baby Boomers, Gen X, Y or Z – search for services differently. The Baby Boomers may be more comfortable utilising the Yellow Pages as a way of finding a reputable physiotherapist whilst Gen Y's will jump online and find what they need in a flash. Whichever demographic you are trying to appeal to remember where they look for services and make sure you have an outstanding presence there.
A website is generally a given these days and you should consider it your online shopfront. Make it work for you by encapsulating who you are as a business and the solutions you can provide for your clients. Don't discount advertising channels like the yellow pages; just make sure the channels you choose to market in are relevant to your patients.
Social Media
Social media provides an exciting opportunity for businesses of all sizes to market themselves and their healthcare business.
Allied health practitioners can use social media to:
promote the name of their brand and business
inform potential and existing patients about healthcare services they offer
find out what patients think of their service and what improvements could add value
attract new patients
nuture relationships with existing patients.
The last word …
All us health professionals know exactly how important new referrals are for our business survival and growth, yet we often leave this task in the 'too hard' basket.  Instead we opt to treat our patients and hope that new patients will find their way into our clinics. If you are guilty of this, now is the time to start being pro-active!  Using the channels and strategies discussed in this blog will not only help demystify the marketing process but also set a solid foundation for your business' future growth.
If you are ready to take the first step  – speak to a consultant today!
Resources
[1] Britt, H., Miller, G. and Henderson, J. (2014) General practice activity in Australia 2013–14. Available at: https://ses.library.usyd.edu.au/bitstream/2123/11882/4/9781743324226_ONLINE.pdf (Accessed: 11 March 2015).
[2] The Basics of Branding. 2015. The Basics of Branding. [ONLINE] Available at: https://www.entrepreneur.com/article/77408. [Accessed 11 March 2015].